Veerappa Moily, Petroleum Minister went on TV stating that whenever the Government tries to effect some changes in Petroleum pricing, the Ministers are being threatened.
By whom?
Obviously by the Companies.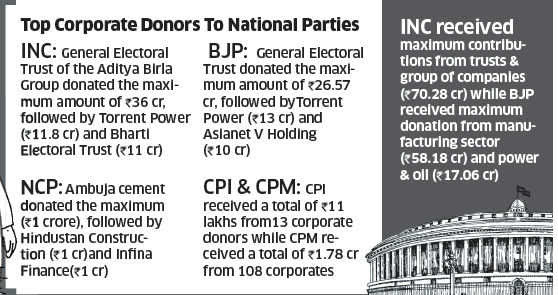 No minister can be sure of his berth in the Cabinet if he dares to challenge the Business Lobby.
More cozy,better for you.
No wonder there is high pressure lobbying by the Cabinet Post aspiration.
As a matter of fact, the Business lobbies decide who should be given tickets even!
These companies have Liaison officers like Nira Radia who fix things.
Listen to Radia tapes in my site, you will know how the fixing is done for Minister ship and for even Media fixing.
We have a Law on paer that each party must declare the information of Donations.
But what is reported is only a small negligible portion of what is collected.
"Between 2009-11 period, the Congress party earned almost Rs 750 crore out of which Rs 500 crore were from selling party coupons.  While the party got Rs 111 .73 crore from donations, it earned Rs 44.11 crore from interest. Interestingly, the party got only 12 per cent of the donations that was above Rs 20,000 and about which the party must give the details of the donors. So the party has not declared how it got approximately Rs 600 crore…
Even the BJP has not been any different. The party earned Rs 425 crore during the 2009-11 period out of which Rs 300 crore was from voluntary donations. Approximately Rs 30 crore was as lifelong contribution fund and Rs 3 crore from interest.  The party got just 22 per cent of the money from donors who gave more than Rs 20,000.
Experts say that political parties fear that they are brought under the RTI, then they will have to share details bout their earnings. Between 2010 and 2011 the Congress received only Rs 20,000 or more from only 417 donors while 502 donations made to the BJP were above the Rs 20,000 mark. AIADMK, Shiromani Akali Dal and BSP got no single donations above Rs 20,00..
Ref.
Related articles